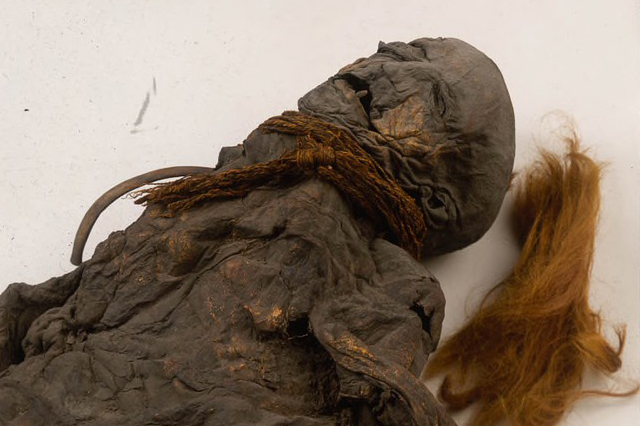 Author's note: On a visit to Dublin, I saw the bog body exhibit at the National Museum and was intrigued by the details still intact—such as hair, fingernails, and the lines of their handprints. A bog body is a human cadaver that has been naturally mummified by the pressure and chemical makeup in a peat bog. These poems are from a series of prose poems narrated by bog bodies and natural elements that I represent in voice. These poems come from the manuscript Borrowings of the Shan Van Vocht. The Shan Van Vocht is the Gaelic phrase for the land goddess and translates as "poor old woman." In modern druid terms, it's similar to Mother Nature. Forensics can tell us many things about the nature of death for bodies recovered from the bogs, but we don't really know the stories of these nameless souls. I have attempted to give them stories.
Derrymaquirk Woman
750-200 BCE. Found in County Roscommon, Ireland, 1959.
Three stones marked the way home: first stone followed the lakeshore, then a turn towards the moon at the second, the last stone always chalked white. Crude lumens on the limitless peat. That last night the bog was unlit under a new moon. The stars unusually dismal and allowed the night to shroud the ground. The baby fussed in the pitch dark. When I no longer inhaled the smell of lake water I know I was deeper in, where the world turned turfy sour. There was nothing to do but wade forward in the soft soil. Within the weak hue, the second stone never appeared, and what appeared as dark opening, went nowhere. It felt a walk through the womb of earth, my own pulsed with its energy. Even the wee bairn quieted down. I pulled my shawl down to sense with my forehead not just my feet, the chill and damp would help me find the way. I would halt, listen, and begin all over again. Feeling my way along the edge of the bog rows, I heard in its previously lifeless depths enormous piping frogs. Then a haunt of curlews' cries. They warned, again and again, to not slip. And I heard thunder. Thunder inside a quivering ground. In quick swell the bog moved backward a few perches. Soft peaty substances boiled up through the chinks, heaving in all directions. I rolled and was wedged in layers of mud, moss, and water. I wrapped all I could reach around the baby. Wondered who would find us in this slough of despond the next morrow?
Drumkeeragh Woman
Unknown. Found in County Down, Ireland, 1780.
My dear husband stole my dauðadag, my death day, my dream soul's journey beyond. A Viking such as I is floated at sea or sent over in pyre. Not mislaid in a bog of the infidels: slathered into their western hills like gobs of rancid brown butter. Fit for traitors and other miscreants. What mark of man silences his wife in rot here? What make of people pillage a corpse? Reave the jewelry and rend a dead woman's gown. Prosper by a plait of the bog queen's hair. From peasant to peer, a mire of thievery surrounds me. My soul will never awake left cold boiling on this island of sump and seedbed.
Cladh Hallan Womyn
Various carbon dates. Found in South Uist Island, Scotland, 2001.
I am more than I seem. Sluagh, as the clansmen say. A jaw that does not fit and never ceases impressing its displeasure. The thick femur that rubs this pelvis to an ache. A skull that can't quit echoing in the chaos. I am curled fetal as a body, but in unnatural articulations. Someday all that oddly rests here will be unearthed in quiet reveal. That the villagers attempted to attach these bones together. That for each piece of comely tissue there came a quick dip back into the bog. That we were merged so often we could not preserve our skins, only these bonny bones rattling against each other. That we are sisters of different mums—none worthy of remaining intact. A meld of perfect womyn beauty.
Frærmose Woman
Undetermined. Found in Denmark, 1842.
Were I to count them, they would outnumber the grains of sand, this psalm I repeated from inside my heavy mud tomb. Inside the sands of dark Danish badlands—always muck and minuscule beneath my feet as I heaved across it in life. That dark sand was dainty, delicate, a size I will never achieve.
Yde Girl
100 BCE - 50 CE. Found in Drenthe, The Netherlands, 1897.
Duivel! Devil, they said. I'd lurch at them so terrifying that they ran away. Deformity and grit, my awful gifts. Unpathetic, I waited for no charitable feelings. No affection. Nothing tender. Barely a warm body wanting—the school master for my carnal self. Beauty was not required for mens' attentions, my sixteen years as the hideous twisted girl had taught me. Until the day the master greeted me strangely. His eyes wooden. He removed his woolen belt. The shadow behind him moved furtively, a dark form in their hand shaped like a knife. My strangled cries cut brisk by a blade. My tormented reign seemed buried. But I'd return and see them run again, my hel-blár face, the blue maroon hue of death, with my corpse-pale hair the tannins dyed a fiery red.
Copyright © 2019 by Catherine Moore.