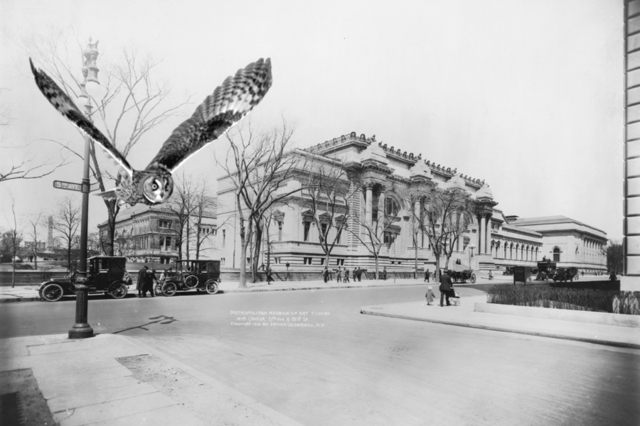 Irving Underhill,
Metropolitan Museum of Art
(1914), from
Wikimedia Commons
. Owl photograph from
Bigstock
. Photo manipulation by William Shunn.
Raking cracked leaves by the Met Museum.
A paper like an Order for unsealing in a canister
Came in: they found your father's father on the roadside
Here lieth First Man. Let the new ones in.
The street sweeper post-felon cleaner found you
a Cleric of cracked oak trees, Long Eared Owl there
only slightly varied, by ripped finger ears
the Order came with an administered penalty.
We are born, men like me, on the outside looking in,
with no more 2nd chances, the unsanitary removal
splashes cupped cracked leaves—C.S. Bishop, 1849
invented the first street sweeping machine.
This quest from outside, Rembrandt, Renaissance,
The American Tank Company was built on sweat and leaves.
Papers picked from beneath benches
to those who requested leave without pay.
Newer machines collected smaller particles of debris
Like an Order for Unsealing outside the Met,
Your history is that of a choreography, convicted
like a brush-stroke of deep verdant oil on a Catalan landscape.
The Long Eared Owl stared out our pined-up years.  
Copyright © 2019 by Jonathan Andrew Pérez.