No one knows the son except the father, and no one knows the father except the son. But good luck convincing the son of that.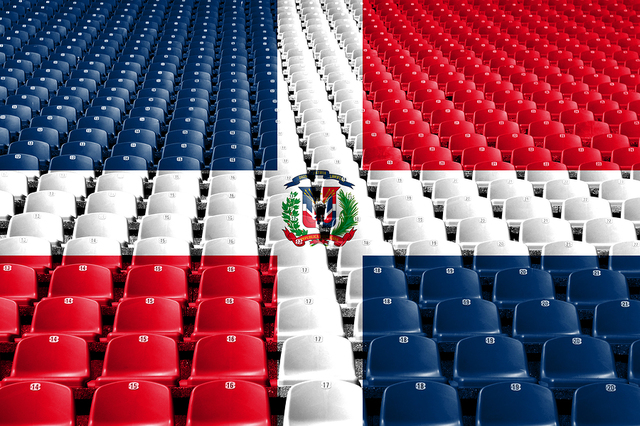 He found a direct flight from Kennedy to that airport halfway in the flatlands of the Santiago and Espaillat provinces. The in-between of ocean and sky, of melting clouds, became a nothingness of thoughts that came and went out of slumber, his mind playing itself out like clusters of failing radio frequencies on mountain roads. He had dreamed of himself drowning in a white and creamy current of milk, and he saw himself as a child of slick wet skin under the sun, his arms flapping and stabbing the stream, but he couldn't tell if he had reached the shore before waking.
Applause startled him as rubber scraped the tarmac and they rolled to a stop. A while later, they all stepped off the airplane, were almost prodded through customs by disaffected guardsmen and were funneled into the luggage section of the terminal, where they were followed by a conjunto típico, a folk troupe of men singing, making dance moves and coercing syncopated rhythm out of their instruments—an accordion squeezed and stretched to make it squeal; the tin scraper known as a güira, its friction grating on Eduard's teeth; a tambora drum hung around the neck, beating like a hollow heart; a discolored saxophone played in spasmodic distress. Travelers were in a festive mood, clapping and putting dollars in the musicians' hands and pockets. Eduard felt an urge to walk up to the guy playing the güira—a grown man whom he deemed too old to be thrusting his hips in that insistent manner—and punch him in the face. Eduard was one of the few passengers not dragging a fleet of bags as he made it through customs and, after the waste of time that was his appearance before a migration officer (she asked, "Mr. Monción, are you here for business or pleasure?"; Eduard answered, "Neither"; she blinked and then said, "I'll mark that as pleasure"), he stood in the cavernous airport terminal regaining a sense of direction: Where was the sun? Which way was the curved peak of the Diego de Ocampo mountain? What had become of this place where he had gotten his start in life?
A skinny old man with a greasy face and a thin layer of curled hair on his scalp grabbed the bag Eduard had placed by his feet, broke into an unjustified grin that showed a missing premolar, and made his pitch. Bienvenido a la patria, caballero. "Welcome to the Fatherland, gentleman," he said in that slippery Spanish tongue of the Greater Antilles, and he continued: "Tell me, where are we going today?" Eduard remembered cautionary tales of travelers taken by taxi drivers to tobacco fields and stripped down to their tighty-whities. He recognized the orange tincture of disappearing daylight in the horizon and weighed his options.
The man was still grinning.
"Can you take me to a good hotel in the city?"
The driver asked one question as he drove down a straight road framed by cow pastures. He inquired how long it had been since Eduard had been back to "the Republic," as he called it.
"More than twenty years."
No other words were said.
The car radio was playing a merengue about a man wishing to find a girlfriend who wouldn't look into his wallet. The rural roads gave way to avenues wrapped around the city and the driver delivered Eduard to a hotel with a landscaped entrance of transplanted palm trees and a lobby of white tiles that smacked of desperation. Eduard asked the man how much he would charge to drive him around for the next couple days. The man named his figure and grinned.
"Look, I grew up here," Eduard told him. "That's too much."
The driver regaled Eduard with an expression of self-pity, but he dropped the price by a quarter. "I have four children to support. I can't do it for less, you know."
"Be here at ten tomorrow then. Meet me in the lobby."
Eduard didn't dream a thing that night, or if he did he couldn't remember it when he opened his eyes and felt he was a misplaced object in that room. He looked out the window toward a landscape that seemed both familiar and foreign: the agglomeration of boxy buildings, each a handful of stories high, rising and falling with the hills of the landscape; the many round cisterns that appeared as growths on the concrete roofs; the light green of Tung trees disguising the poison of their fruits, and beyond, the soft curves of unpretentious mountains. The driver reintroduced himself in the hotel lobby—"Call me Aguilera," he said—and he gave Eduard that smile of the missing tooth. He commented that Eduard looked elegant in his black jacket.
"We are going to a funeral."
Aguilera's smile froze. "My condolences, sir."
He observed himself telling the driver more than he had intended to say. "There's no need for sorrows. My father died and I'm going to pay my respects, that's all. We weren't really close, not like a normal father and son. I don't know what a normal father and son are like, but I had not seen him since I was a child and he had his own life, his own family, his other children, apart from me and my mother. We only spoke once or twice a year, you know. I had not visited him since I left as a child but it's this situation where…"
His voice trailed off. Eduard thought that even if he could convey what he felt he was not sure others could come close to understanding him.
"But he was the one who put you on this earth, and that counts for something," Aguilera said. "Maybe not for him, but it did for you."
Eduard was grateful for those words, though he didn't say it.
"Let's go then," he said after a moment.
The funeral home was in the lower section of the city and Eduard smelled the muddy Yaque River as they approached it. He looked out the window to the narrow one-way streets of small sidewalks, brimming with merchants. Their tables displayed purses, religious books, potions and incense; there were old magazines from abroad, including those stacks at the bottom, mostly for young men in pursuit of carnal knowledge. He could see wide plywood boards on the walls where the quinieleros displayed the week's lottery tickets, paper strips with kilometric series of numbers and longshot odds. He remembered his mother pointing to a ticket, handing away her pesos and saying that she would buy him the bicycle he wanted if she ever won. She never did. They pulled up to the funeral home, itself resembling a large mausoleum at a corner of the Avenida Veintisiete de Febrero.
Aguilera, his face shiny from a persistent film of sweat, said he would drop Eduard off in front of the funeral home to go find parking. As Eduard walked up the steps, he noticed the four-squared flag undulating its national pride to pieces atop a pole. He went past teenagers, two girls and a boy sitting on the stairs. They looked at him with disinterest and barely moved their legs so he could pass. He recognized his nose in their noses, lumps of contorted flesh. He opened glass doors into a hallway of springy carpets and stopped to get his bearings. He noticed a monitor that served as a revolving directory, a schedule of recent departures of sorts. On it was the progenitor's name and directions to his exit gate:
JULIO MONCIÓN
QUE EN PAZ DESCANSE
CAPILLA LA ALTAGRACIA, PISO 3
Eduard took the elevator and emerged to a room of ancient furniture where a woman in dark clothes, hair in a bun, subdued smile, asked how she could be of service. He looked to his left and saw the room and, back by the wall, the half-open mahogany coffin where the body lay. He walked toward it in a trance of nothingness and didn't stop until he stood before what appeared to be a wax figure: it had the nose, the wide forehead and the lips of marked Cupid's bow that he was used to seeing in the mirror. Gone was the devil-may-care expression. He heard some stirring behind him and the trembling voice of his aunt say, "He came to say goodbye."
He received the call about his father's heart giving out on a Tuesday morning from that same aunt in Providence, someone who Eduard barely knew. He gazed out a narrow window at layers of gray, a sky typical of city mornings between full seasons. She spelled out final arrangements and asked Eduard if they should expect him. He said no, pressed the talk button and went back to his face, splotched with cream in the mirror's reflection. He ignored the recriminatory telephone rings that followed as his thoughts took him to that last conversation across the Atlantic.
"So when are you coming to visit? Spend some time with your old man; sit under a tree's shade? You know, eat fritters and have rum shots to pass the time?" his father had asked.
Eduard had been a teenager when his mother started forcing those empty exchanges of words between them, but he had continued calling at the crack of every New Year on the island, an hour ahead of his time zone, out of habit. This time Eduard had said something about "preparing the business for the busy tax season" and that he would like to visit, "maybe another time of the year." Firecrackers had burst from the side of the Tropics.
He felt like saying something substantial, though he couldn't. His father waited for Eduard to ask for his blessing, as was customary. Eduard hadn't brought himself to do it.
"Goodbye," he said.
His dad had chosen to bestow grace on him anyway.
"God bless you, son," he said.
The memory had moved something inside him.
Eduard talked to his face in the mirror: "A man has to go to his father's funeral."
This man whose empty shell lay before him had acquiesced to paternal responsibility a month after Eduard took his first breath in a hallway of the Hospital José María Cabral y Báez, an old government facility where urban myth had it that a monstrous snake, hidden in the basement, was fed illegally aborted fetuses. The story went that his mother was among three women pacing the maternity ward and waiting for a bed that morning. The nurses were ignoring her cries and the doctors had made themselves invisible so they wouldn't be bothered. She found a corner by a rusty water fountain, leaned herself on it, lowered her panties and squatted to crap him into existence. The nurses rushed to clean the mess and wrap him in a towel.
Monción saw the baby when she returned home from the hospital. First thing, he undid the cloth diaper and checked the baby's manhood.
"This can't be mine," Monción said. "I never make boys."
His mother told him to go to hell. He walked out the door, but returned several weeks later saying that he had a dream in which he was carrying the boy and feeding him a bottle and that the baby stopped, looked into his eyes, and said papá. He had procured a birth certificate from City Hall and held it up to show that he had given his son a name: Eduard Monción.
He stood there with the piece of paper in hand, waiting to be thanked.
"You can come and see him, as long as you give me money for his milk," Eduard's mother told him.
He asked to carry him. The baby was startled by his voice and cried and cried and cried until his mother took him back. Monción smiled and said he would get used to him. After that, he would reappear after being gone months at a time and would marvel out loud how tall his only son was and how handsome, how much he looked like him and how he was going to be a hit with the girls. He would on rare occasion take Eduard to get a haircut and to eat ice cream or he would have him hang around him for hours and watch him play dominoes with wasted old men.
The boy was turning nine or ten the day when Monción arrived in the four-stroke motorcycle that he owned those days. He had for once remembered Eduard's birthday and he had called to say that the two of them were going that very afternoon to a baseball game. Las Águilas were battling Los Leones for a spot in the finals and this was the decisive match. Eduard felt something lift him, swing him to the sky and bring him to the spot where he stood, and he emptied two gallons of water into a bucket and he scrubbed and washed himself clean and he got dressed and he asked his mother to comb his hair and he sat and waited by the door, listening for the sputter of his dad's ride.
That afternoon Eduard hung on from the side belt loops of his father's pants as the engine switched gears and they weaved through car lanes. They were in a line of traffic sneaking into the Estadio Cibao, the light of the afternoon resplendent in the golden yellow of the fandom's hats, shirts, skirts and pennant flags. A festive troupe performed the team's anthem by the stadium's entrance, an old-fashioned merengue about firewood, how it kindled flames and was a symbol of strength, not unlike the passions of fans at a good game of béisbol.
The match didn't disappoint. Their hearts raced as the ball was sent bouncing onto the field, all eyes on the men who slid for the bases and dove for the catch.
Inning after inning, the teams answered each other's aggression with cracks of the bat.
The visiting Leones surpassed the home team, but there was still a chance.
It couldn't have been scripted any better: it was the bottom of the ninth and the Águilas had their last chance. They were losing by one run with two outs on the scoreboard. A base on balls put a runner on first—an American prospect playing as an import in the republic's winter league. At bat was number fourteen, the player every kid in the city wanted to be. He was the star catcher who had made it big in the majors, yet returned every winter to play Dominican ball.
Most fans stood and many piled up along the fences, yelling the worst obscenities at a pot-bellied umpire by first base, if only because he was closer to them.
People hung on to every pitch and, after a few tries, their man connected.
The ball shot up the middle and all the aguiluchos went nuts. Men and young boys, even some women, hopped over the cyclone fences and rushed onto the field. They almost trampled on the first-base umpire as they spilled onto the diamond, surrounding their hero while he rounded the bases. Eduard and his dad hugged and jumped up and down like two happy idiots.
He was remembering that moment when the aunt sat next to him during the wake. She told him her older brother was a pillar to the family and said that he had his weaknesses, "like any human being," by which she meant that he would fornicate with anything with a skirt.
"Of all of you," she paused.
He thought about what she meant by "all of you."
"Of all of you, he was the proudest of you, Eduard. You reminded him of his young self, with your business and everything."
Eduard was repulsed. He was not like the man who could break a boy's heart.
Julio Monción had gone from selling and distributing food products to grocers to managing a warehouse to borrowing money, setting up a warehouse and striking out on his own. His visits became less frequent, as did his contributions for milk or anything else. He forgot birthdays and all the holidays, and he never again took Eduard to a game. After a while, he would not approach the neighborhood where Eduard and his mom lived in a row of simple frame houses that leaned in the direction of the cliff. Monción would park his truck by the main road, two paved lanes about one and a half kilometers away, and he would send an employee to deliver his due–and to bring Eduard to him so he could give his blessing.
Even those visits by proxy became rare and were limited to times when Monción had to go to that side of the city on business. Eduard's mother had tried calling him numerous times, but secretaries would tell her he either wasn't there or was in a meeting with customers.
One dusty summer day she dressed Eduard up as if he had been going to church and they rode on public buses with all the free-trade zone workers and Haitian day laborers, halfway around the city, to get to the warehouse and "remind this man that he has a son," as she put it. The outing had seemed fun to Eduard, an excursion past uneven landscapes of boxy buildings that sprawled in aimless ways, until they found themselves outside a large brick wall, beneath a sign with Eduard's own last name in large square letters: MONCIÓN & ASOCIADOS.
They went in the front door and were directed from person to person to a back area where there were a few desks amid piles of rice sacks. Monción seemed startled when an employee told him that he had visitors, and he turned their way, squinting. He walked briskly in their direction, no hint of a smile, and he grabbed Eduard's mother by the elbow and, without saying a word, he guided her through narrow spaces between pallets, all the way outside the warehouse.
Eduard followed in a hurry and he noticed the bulge on his father's waist, which made him think of those long revolvers that cowboys carried in dubbed old American westerns. The three of them emerged to the front of the business in the heat of noon, their shadows reduced to oval circles beneath them. She used her free arm to shield her eyes. His dad tossed her like a ragged doll, and she faltered several steps toward the street before steadying.
"If you do this again, if you show up here," his voice thundered, "I'm going to take my belt off in front of the warehouse staff and I'm going to teach you a lesson you won't forget. Who told you that you could come here? Crazy woman…"
"What's the matter? I wasn't so crazy when you came to see me again and again and swore you didn't have a wife," she screamed. "Don't you want to see your son? Your only son?"
Julio Monción looked at Eduard, neither hate nor love drawn on his face.
"He's not my only son," he said. "Not anymore."
Eduard must have been twelve or thirteen then. In that moment his eyes opened in new ways. He noticed the coarseness of the black pavement, unevenly spread; the loose hairs his father had left unshaved around his jawline; the film of moisture under his mother's eyes, made of sweat and something more. He was nauseated by the yellow intensity of the warehouse's walls and the blistering heat. He hated everything and everyone, even himself. He thought of pulling his dad's revolver from his waist, and doing what? He couldn't think straight.
"If you don't want me to come, send the milk money then…"
"Mayra, don't provoke me. I'm not going to give you money so you can go spend it with some lazy boyfriend in those slums."
Eduard would always remember how the man had paused and looked at him with eyes that appeared to be creatures unto themselves. Monción turned to Eduard's mom again.
"Why does he need milk anyway? He's not a baby anymore. You should send him to get a job so that he could help you buy it himself. Start teaching him now because he's not going to ride on my back for the rest of his life."
Eduard remembered the humiliating ride back on the bus. They carried large cans of powdered milk that tended to tip and roll over when the large tires hit potholes or when the bus stopped to let off or pick up passengers, sliding on sand. His mom had won the argument after she threatened to take him to court, telling him, "Remember, you gave him your last name. You are obligated to support him." Monción said he would not give her money, but asked how much milk Eduard drank in a month. She overstated it: "Six cans worth."
After that day, Eduard had had to learn the way to that warehouse, and he made the trip by himself once a month. He had, at times, looked forward to it, anticipating those times when Monción took him along in his pickup, its seats smelling of new leather. He would introduce him to clients as his "helper," and Eduard had taken to carrying the briefcase where his dad had the carbon-copy forms to place orders, a large calculator, and a roll of paper used to print receipts.
With every visit, too, Eduard was expected to ask for his blessing, as all sons did. His father said, "God bless you," as all dads did. It was an understated sacred pact in the chain of beseeching and good wishes that served as currency between children and their parents.
On days when Monción was not there an assistant would hand Eduard his six large cans of powdered milk and send him on his way.
The visits continued after Eduard's mother left for New York and after she started sending him enough dollars to buy himself whatever food he pleased. Eduard picked up his milk no matter. He just wanted his due.
Eduard told his dad one day in May that his visa had been granted and that he was going to follow his mother out of the country. His father looked at him as if he had already transfigured into a memory that had been sitting on the truck's passenger seat.
"No more milk then?"
The day Eduard was set to leave he realized that he had been expecting a final visit from the man who put him on earth. The bus to the airport arrived that afternoon and there was no sign of Monción. Eduard dialed the warehouse. He was told by the same female assistant that usually handed him the milk cans that Monción wasn't there. He was visiting clients.
There was a moment of silence on the line.
"God bless you," the assistant said.
Eduard told those relatives that he met at the funeral home that he would return for the burial, but he had no intention of doing so. Aguilera was waiting by the door, hands held behind his back. He was wearing a crumpled blue navy jacket that made him look more impoverished. He must have had it folded in his trunk for such occasions. Aguilera followed him down the steps and all the way out to a late afternoon of blinding light, like that day at the stadium or the afternoon outside the warehouse.
Eduard stopped to wait for his eyes to adjust.
"As time passes it gets easier, you know," Aguilera said.
"Thank you," Eduard said. "I need you to take me somewhere."
He rolled down the window and let the warm breeze tousle his hair. The landscape along the Avenida Circunvalación looked remotely familiar. What used to be empty stretches of undeveloped land had been filled with multistoried buildings of rectangular balconies, which Aguilera informed him were sold to rich kids, mostly émigrés like him.
"It looks like this country has changed a lot," Eduard said.
Aguilera gazed at him in the rearview mirror and flashed his silly smile.
"Yes," he said. He looked ahead toward traffic. "The country has changed a lot for people who have dollars."
They arrived at the promenade that was the entrance to his former neighborhood, and Eduard couldn't reconcile the plainness of the traffic circle and its rusted surfaces with the memory of a fountain where water streams had arched onto a pool of green tiles, a place where young lovers had sat on benches to search the sky many a cloudless night.
Aguilera saw that Eduard was looking in that direction.
"That fountain stopped working two or three governments ago," he volunteered.
Eduard instructed him to make the first right turn out of the circle and then to take an immediate left into the first street. They crawled through the Avenida Franco Bidó, pockmarked by potholes. Aguilera drove for the rest of that stretch and arrived at a large intersection whose surroundings had been cleared of every tree. Eduard signaled for him to stop, then opened the door and stepped out. He stood on the sidewalk, looking left and right and toward the property in that corner. Aguilera had come out of the vehicle and was leaning on the hood of his car. Eduard felt a stinging at the root of his nose and had to choke back tears.
"The school is not here," he said. "My school is gone."
Eduard looked toward the property, its gated entrance, and the sharp angles of the repeating façade of lookalike residential complexes. He could not make out any trace of the old front yard, its raised platform for the flagpole and the large oak, the shade beneath it the place where he and other students had stood in formation before classes, hands on their chests, singing that anthem about breaking slavery's chains. He thought that he would never be able to visit and say "That was my school," and that realization saddened him.
In losing traces of his past, he was losing bits of his future.
The next morning Aguilera arrived early, as Eduard had requested. They got to the Catedral Las Mercedes in time so that Eduard walked up to the hearse and grabbed one of the handles to lift the coffin and help carry it through the vestibule and nave. It was heavier than he expected. The words from the reading of Matthew made him recognize himself as an orphan: "All things have been handed over to me by my Father. No one knows the Son except the Father, and no one knows the Father except the Son and anyone to whom the Son wishes to reveal him."
Eduard's mind returned to that afternoon at the stadium. They had walked out onto the parking lot, pressed into the warm bodies of others, and made themselves hoarse from chanting cheers. He remembered the euphoria; the glimmering skins of street boys climbing on a tree outside; fans packed in cars, sitting on each other; young men hanging from the tails of motorcycles and swinging yellow flags. His father broke out of the traffic and flowed down the avenue by the river's edge, where crowds assembled by the sides cheered at blasting horns. Some drivers had tied empty cans to the bumpers of their vehicles and went through the streets raising a ruckus, screaming that they were champions, as though they had won anything.  
Copyright © 2018 by Víctor Manuel Ramos.